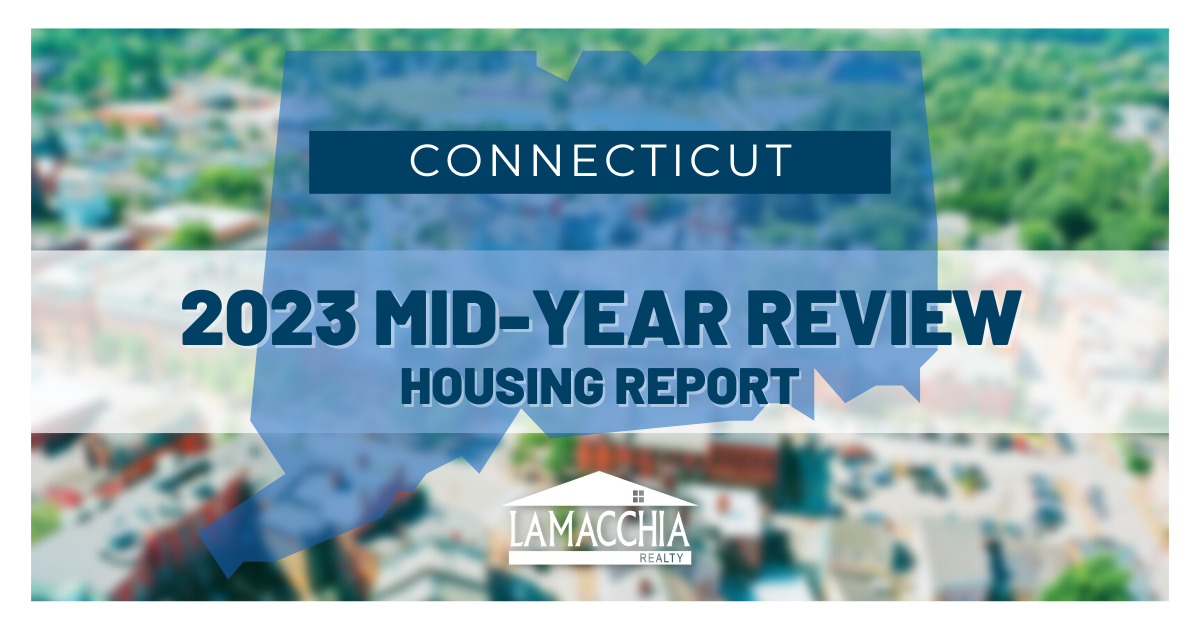 For this report, we are examining the Connecticut real estate market and we are focusing on three property types: single-family homes, and condominiums/townhomes.  Although Lamacchia has been assisting buyers and sellers in Connecticut for years, we officially opened our first branch office in Southington, CT in late 2022. This is our first mid-year report for Connecticut.
The Connecticut housing market experienced trends consistent to other New England states in that sales decreased, and prices increased when compared to the first six months of 2022 which also saw sales declines from the previous year of the frenzied Covid market.
The Number of Homes Sold Decrease 24.7%
Home sales decreased in both categories, down by 24.7% now at 15,860 total sales compared to the first half of 2022 which exhibited 21,076 sales.
Single family sales decreased by 24.8% and condos are down by 24.5%.
Owners who are locked into covid-era rates between 2 and 4%don't want to list their homes despite wanting to move because they don't want to lose their low rate and gain a higher one. 
Many sellers are hesitating to put their homes on the market, therefore, the number of new listings is down year over year. Connecticut consistently has the lowest inventory of all New England states, and therefore the lowest chance of prices dropping.
Listings are the lowest they have been in recorded history, of any 6-month period since records have been kept starting in 1995 (red line). This sure explains why every Realtor feels like business is so slow and why 2023 kicked off with very tight inventory.
The chart below depicts that 2022 was the beginning of the market adjustment with sales much lower than 2021, incapable of keeping pace with 2021 as the buyer pool diminished with previous buyers making purchases or deciding to keep renting. 2023, with the rising prices and mortgage rates is now lower than pre pandemic sales.
Prices increased in both categories: singles up by 3.4% and condos are up by 13%.
Prices have been rising in Connecticut for years, but there was the Covid-era spike due to frenzied demand and since then a drop just hasn't happened due to historically low inventory. Again, as mentioned earlier, the extremely tight Connecticut inventory will make it very unlikely that we will see a price drop.
We predicted in the mid-year of 2022 that "the rising rates will impact prices, but it's not likely we will see prices fall. They may simply not rise at the pace we've been seeing, but a drop in prices is highly unlikely." This has been proven true, as prices climbed 29.1% in 2021, 3.9% in 2022, and 4.7% this year.
If rates are a strong deterrent for buyers looking for more affordable monthly payments, there are several alternative options such as mortgage buydowns or assumptions that are worth exploring.
The chart below shows how monthly prices over the past four years have steadily increased except for February of this year.
Predictions for the Rest of the Year: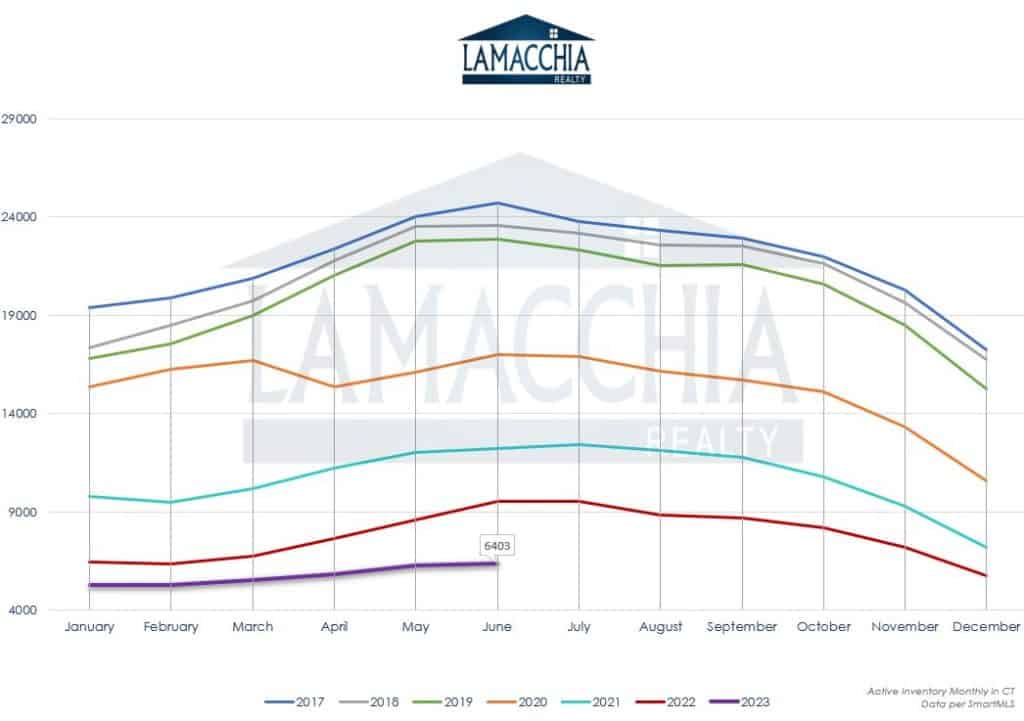 Like other New England states, and pretty much nationally, the Connecticut market has seen a decline in sales coupled with a rise in prices, which aligns with our earlier predictions but in this state is experiencing extra pressure on available inventory.
Many sellers are reluctant to list their properties due to the low-interest rates they secured during the Covid era, making it difficult to accept the current rates of around 7%.  It is likely rates will stay at this level for at least the next few months and therefore, we also expect that we are going to finish the year with the least amount of homes listed in recorded history.
Only when faced with necessity or significant life changes are sellers compelled to put their homes on the market. Events such as divorces, expanding families, relocations, and downsizing have driven the market, but even these factors have not been enough to boost inventory with an adequate number of homes to meet demand. As a result, housing prices on average have remained on the rise.
Buyers actively searching for homes are determined to find the perfect match that fits their requirements and budget, which is now lower than last year due to increasing rates and prices. This reduced affordability underscores the importance of monitoring rates and maintaining up-to-date pre-approvals. If a drop occurs, buyers are urged to promptly update their pre-approvals, so they can be ready to strike if the opportunity arises.
As we reach the mid-point of the year, sellers encounter favorable and unfavorable market conditions. Traditionally, the first half of the year favors sellers in what is known as a seller's market. However, for those simultaneously selling and buying, the latter half of the year typically shifts towards a buyer's market, making it still advantageous to list your property now. To succeed in this market, setting a competitive price for your home is essential. Attracting a larger pool of potential buyers provides you with increased leverage, affording greater control over negotiation terms such as timing, contingencies, and price.
Given the current low inventory and stable prices, a housing price crash is not anticipated anytime soon if at all.  Anthony has described this market as similar to the 1980's with low inventory and consistent prices. While interest rates have increased compared to the pandemic period, historically, their level is relatively moderate. Many believe that in the long run, rates around 5-6% will be the norm. Considering this perspective, sellers should not delay selling and moving into a new home, as waiting for the time for significantly lower rates might keep you waiting and missing out on the perfect home. Alternatively, if rates do decrease and prices continue to remain steady, refinancing could be an excellent opportunity for sellers to secure a lower interest rate if a drop occurs.