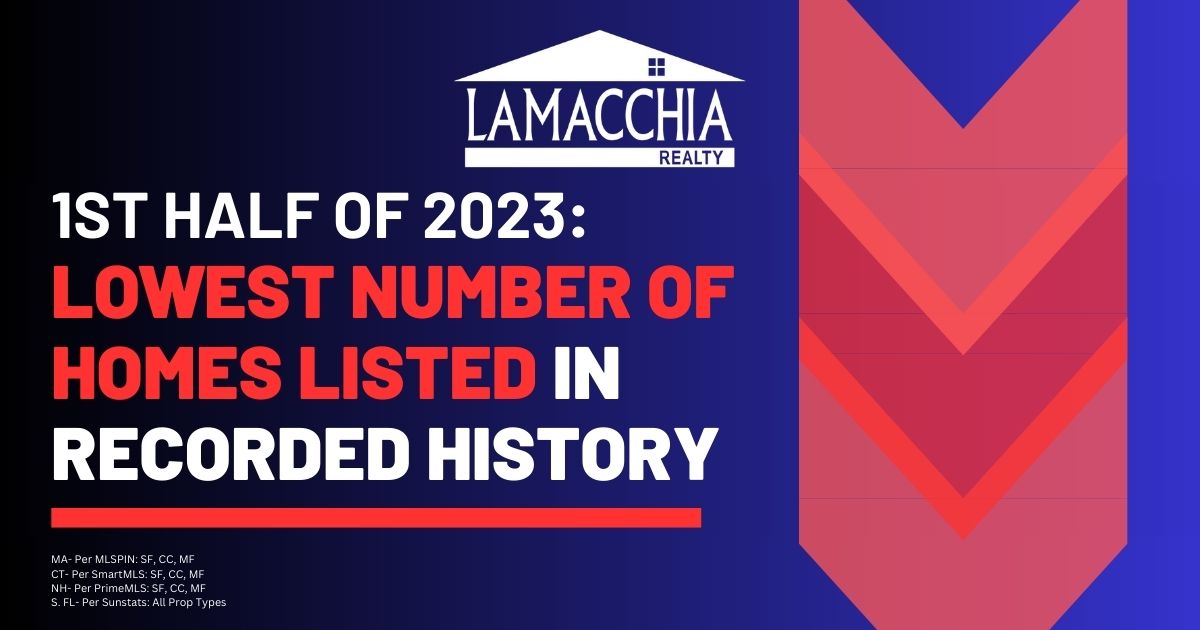 The listings saga continues.  In April of this year we published a report noting that the first quarter of this year, compiled with the last quarter of 2022 exhibited the lowest number of homes listed in recorded history.  June numbers are in and now we can say that the number of listings for the first half of 2023 now takes the superlative title.  Furthermore, last time we only covered Massachusetts, but in this edition of our Listings coverage we added all states in which we have offices; Connecticut, New Hampshire, and South Florida which are all showing the same thing. 
Compiling Q2 with Q1 brings the big picture into focus: the 2023 real estate market is still making historic moves, this time with a decrease in listings, compared to the pandemic-era rise in sales and prices in 2021. 
This behavior is all part of the adjustment, which began in 2022, that was ultimately necessary to reach a more balanced market, but we didn't say it wouldn't hurt. To add insult to injury, the fourth quarter of last year was no walk in the park also with historically low listings.
This adjustment began in early-mid 2022 with the rise in interest rates. The rising rates over the past 16 months have decelerated the number of sales as buyer affordability has been greatly diminished and because sellers are hesitating to list.  Listing essentially requires sellers to trade in their pandemic-era rates of 2-3% for the current rates hovering in the high 6%-low 7% range.  This seller hesitation is largely why we are looking at historically low listing numbers.
The charts below for our four states show the first quarter of the year in mint, the second quarter in orange, the combined number of listings for both q1 and q2 in blue, and the red line highlights how 2023 is the lowest quantity of listings that we have on record.  
Click charts to enlarge.
With the last quarter of 2022, and the first two of 2023, that's three quarters in a row of a historically low number of homes placed on the market. The number of homes listed for Q1 going back as far as data is available is depicted for all four states below.  You will see that 2023 has the least amount of any year.
We have data for Connecticut that dates back to 2009 and you'll see that the highest number of Q1 listings was in 2010 at 21,830 compared to this year at 9,529.
For Massachusetts, data goes back to 1995 with the highest number of Q1 listings in 2005 at 42,162 and 2023 with 15,423 listings.
New Hampshire data goes back to 1998, with the highest listing Q1 was also in 2006 at 9,685 and with 2023 the lowest at 3,399.
South Florida (Miami, Broward and West Palm Beach Counties) data goes back to 2008 which came in at the highest of 44,544 in 2008 and 2023 came in at the lowest with 29,437 homes listed.
At this point, we expect 2023 to close with the least amount of listings ever recorded.
Anthony talked a lot about the current market's similarities to the early 80's in his 2023 Predictions blog that was released in late December.  It is fairly clear that sales will be down possibly more than originally anticipated and that prices will behave as predicted.
As mentioned in our initial report, it's unlikely that we will witness pandemic-era interest rates again, and buyers and sellers should remain vigilant about rate fluctuations and capitalize on opportunities when rates dip slightly. Buyers should promptly update their preapprovals so they're ready to strike with the lowest rate possible, and sellers who are also buyers should have their homes ready to be listed on the market, leveraging buyer motivation during periods of reduced rates to attract offers and enhance affordability. More sellers, who are also buyers, should take advantage of mortgage buydowns and explore mortgage assumptions. Sellers are advised not to sit on their hands and wait until the last possible minute to get their house listed and buyers shouldn't quit their search, hoping that rates will drop.  Doing so is only going to postpone your real estate plans and likely cost you more money in rent or on a home down the line when prices are likely higher.